26th March 2020
While at Covid-19 Alert Level 4 status, Corys will continue to service the requirements of our customers who are operating essential services.
This will, however, be in a way that is significantly different and ensures we play our part in protecting the health and wellbeing of our customers, suppliers and staff.
This means that as at the 26th March 2020, we have taken the following steps:
A significant number of branches are closed, and those that are open will be operating reduced hours. Please call your local branch for the latest information on their operating status.
We are striving to fulfil the needs of all our essential service customers. Even where a branch is closed, we will operate a call out service or enable the fulfilment of your product requirements from a nearby branch.
Where essential service orders are placed, branch operational procedures will ensure physical distancing is adhered to while you collect your goods. This is as previously outlined in our communication on the 25th March 2020
Kia Kaha and thank you for your support!
25th March 2020
Yesterday, the Government shared the move to Covid-19 level 3 immediately, then to level 4 at 11:59 pm on Wednesday 25 March 2020. This focuses on maintaining safe self-isolation and supports the supply of product to essential services organisations.
Corys does not see business as normal in the foreseeable future. We are committed to taking practical steps which provide a safe environment for our valued customers, suppliers and staff.
All branches are currently open and will continue to trade as normal until the end of Wednesday this week. After that point, Corys will continue to work on continuity of supply to customers who operate as an essential service but note that further advice will follow to confirm any branch closures or changes to operating hours as a result of Level 4 Alert status.
Corys will look different:
We are changing staffing levels and wherever possible working remotely.
Corys staff will require physical distancing from customers and suppliers throughout all areas of operations.
Customers are encouraged to place orders via www.corysadvantage.co.nz. Trade Account customers can register via the web address above or clicking here. Corys Advantage allows online visibility of stock across the Corys branch network, pricing, ability to prepare quotes and invoices.
If you cannot place an order through the website, then please phone or email the order to your local branch who will prepare the order for collection.
Please note when you approach our front door it will be closed. Each branch has set up a customer collection points at their entrance to maintain social distancing. An example of a customer collection point is below. Please note: There is only one customer at a time allowed in this collection zone. If you see a customer in this zone, please do not enter.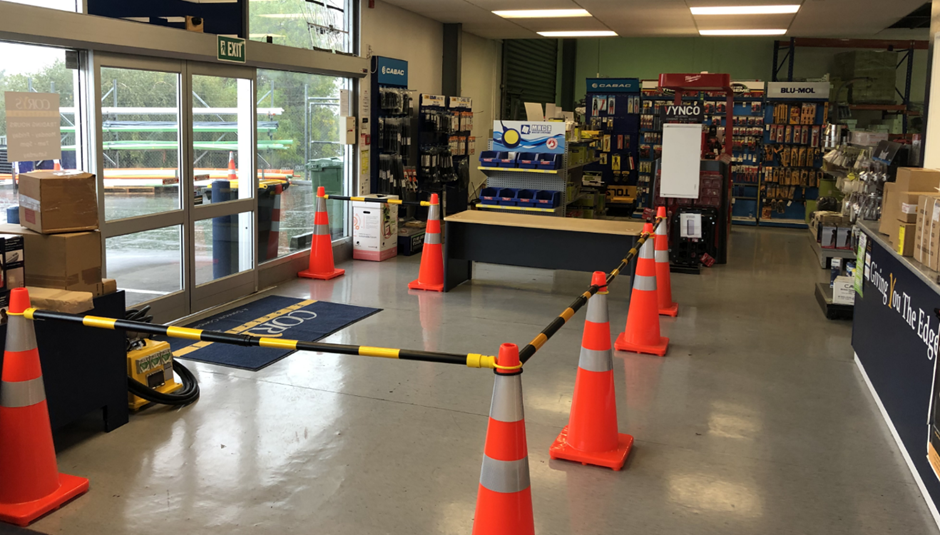 Please stay safe out there and we look forward to returning to a more normal relationship in the near future!
19th March 2020
The global impact of the Covid-19 Pandemic is unprecedented and the complexity of its effects are developing on a daily basis. The risks are now well recognised with both corporates and governments taking extreme measures to protect New Zealand.

At Corys, we have activated our Pandemic Management Plan which is focused on ensuring our branch network and central office remain safe workplaces for our people and customers.

All Corys' staff are required to follow the government's requirements around self-isolation if they are returning from overseas travel. Measures to prevent the spread of infection, including travel restrictions, heightened hygiene management and social distancing protocols, have been enforced with our team. Additionally, we are ensuring our supply partners are adhering to these requirements.

From this time onwards, in order to assist us in maintaining a safe working environment, we would ask for your help in the following ways when visiting a Corys' branch:
If you are feeling unwell, or have been in close contact with someone affected by Covid-19 or have recently returned from overseas travel, please follow the Ministry of Health guidelines around self-isolation and Do not enter the branch.
Follow the Ministry of Health hand washing and coughing/sneezing guidelines – for further information see this link. Hand sanitizer is provided at the front counter in each of our branches for use each time you visit.
Follow the recommended social distancing protocols, including:
- Maintaining a distance of a minimum of 2 metres when communicating with staff;
- Refrain from physical contact including handshaking, hugs etc.

We thank you for your support as we work through this challenging situation which is impacting all of New Zealand.